GOLDEN HEARTS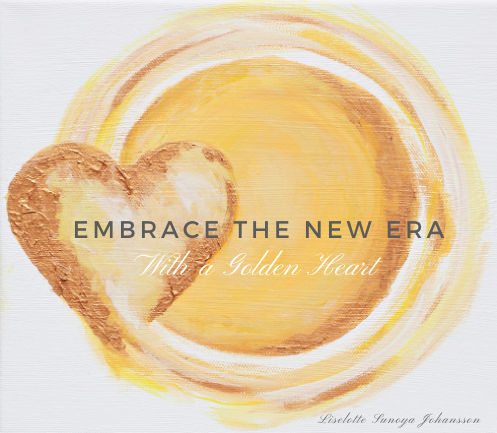 The world is about to enter a new Golden Era. I see intuitively how the old world will decrease and it will become so much brighter. A new world will gradually be born, and it will change a lot for us all. That big transformation urges us now to start chose life from a higher frequency. We will be led there by the voice of our heart and its ability to live in truth, freedom, love, empathy, light and higher wisdom. In the new era, you and your surrounding along with mother earth will flourish – in harmony with each other.
The Golden Heartbeat is a flow that you feel from the level of the heart in consonance with the soul. It is all about to reconcile with your own rhythm of life, to embrace it, to discover life's constant gifts and your true creative self. The flow from the heartbeat, has a natural care for itself and others. It loves to be present in the authentic energy of all living. In this energy, you are being led by your inner purpose, by the sun, mother earth, and the light energy, by a strong natural inner value, by the will to do good and exist together with body, soul, earth, universe and your mission on earth.
A Golden Heart stands for truth and wisdom within and not from the outside, and can lead itself with warmth, patience, compassion, joy, courage and light. It is a heartfelt and soulful life in abundance and natural wisdom which are allowed to grow strong. The new Golden Era is led by love and not fear, as previous has limited so much of our true essence and inner power. It opens our intuition, our consciousness and our hearts. We are life of light and will be honoring this by living authentic and by taking care of each other and our earth.
---
FOR YOU WHO WISHES TO TRANSFORM YOUR LIFE AND LEAD YOURSELF INTO THE GOLDEN ERA
TAKE PART OF THE INTUITIVE COACHING PROGRAM
"GOLDEN HEARTS"
WITH A COMPLETELY UNIQUE LAYOUT OF HOLISTIC THERAPY, INTUITIVE GUIDANCE AND CARING DEVELOPMENT IN COOPERATION WITH YOUR SOUL, I WILL HELP YOU – THROUGH CONVERSATION, ENERGY HEALING AND INDIVIDUALIZED PRACTICES.
The program is for you who wishes to solve in-depth issues in life or attend to all areas of life to reach your wholeness, achieve balance and change life longterm. This program will give you an amazing opportunity for just that!
Are you one of them who wishes this?
The layout of our sessions together will be totally individual depending on exactly what You need, which is something I tune into with my intuition tools, and discuss after we have had contact and you tell me what you wish to be helped with. But in general, it can look like this:
Step by step we work through different areas of your wishes. I feel intuitively , we talk, find underlaying causes and you get advice for success, insight, healing etc. All the time from an intuitive and soul level. Between each session, you get time on your own to work with what is current from the advice you have got. It can be all from one to ten sessions for each area, depending on how deep you want to go and need. You decide this from how you feel, nothing is predetermined, only our honest intention to help you. During the intuitive sessions it can also arise a need for energy healing on some kind of trauma, parallel life or something else, that may disturb your current life. If so, I will send the healing needed during our conversation. Everything is always in cooperation with you.
Areas that may be relevant and examples:
The general life situation – attend to thoughts, feelings, actions, deeper contact within, and what you can do to start a change.
Relations – attend to how your relations effects you, if you are true to yourself and your closest family/friends/partner, how you are setting boundaries, respectfulness, communication, to open the heart energy more/dare to love/give/receive, to be in contact with the body and soul, sexual blockages/flow, to feel when something isn't good in a relation, direction, foundation values to follow, open up to meet your life partner, to separate from your life partner in a nice manner.
Finances/Work/Purpose of Life – to find balance in work-life, feel and know your purpose with the projects/the work/mission you are doing or wish to have, is there meaningfulness or why not, relation with co-workers, financial difficulties you wishes to solve and what energetically has caused them, structure and planning together with your soul purpose, to live in greater flow.
Health – attend to what energetically needs to be balanced in your body, aura, mind and your soul for good health, advice to different therapy treatments or care from others, healing of emotional blockages, insight and advice about traumas, parallel life experiences, meditation advise, increased contact within, mother earth's healing power, earthing, chakras, contact with nature.
Personal development together with the soul – to participate and live together with the power of the soul and your inner voice. Understand the bigger picture and perspectives in both small and larger events in life, learn to listen within, what hinder you to live in happiness with yourself, to rediscover the soul's natural energy like happiness, love and overflowing energy. Know who you are and integrate that energy in life, intuitive development.
DO YOU FEEL IN YOUR HEART THAT THIS IS SOMETHING FOR YOU? THE WHOLE PROGRAM, PARTS OF IT, OR SOME OTHER KIND OF AREA THAT YOU WISHES TO HAVE SOME EXTRA HELP WITH? DON'T HESITATE TO GET IN CONTACT WITH ME BY EMAIL. I AM HERE FOR YOU, READY TO LISTEN. ♥ CONTACT
TESTIMONIAL: "The coaching program is the best therapy I have attended. Through all my life I have tried different kinds of therapy, but this is something above anything else. I have received good tools and practices that have given me great results both physically and mentally/emotionally. To work with both body, mind and soul is incredibly important, and especially in times like this. Today I am stronger than I have ever been, with self-awareness, balance and joy. When I started on the program with Liselotte I had a profound life crisis, and with help of her, I have in an extraordinary way, gone through this and worked fulltime, something I never thought was possible. The layout has been perfect, as you know in beforehand how to work forward. The intuitive guidance, I love! Liselotte has got exact information from the light guides and has been able to guide me spot on. This is the first time in a therapy that I have felt whole. Thank you lovely Liselotte, and thank you to me for attracting your help into my life." ♥ – Anna Olive, Stockholm
Prices within the coaching program: All sessions last one hour, and are being conducted in Zoom or Skype. For the first session you will pay 795 SEK (92 USD/70£/77€) as for an ordinary intuitive guidance. If everything feels good for you after our first session and you want to continue regularly, you will pay 600 SEK (69 USD/53£/58€) for each session. You end the program whenever you wish.
————————————————————————————————————————————————————————–
Does it work at a distance? The sessions are being conducted over Skype, Zoom or messenger nowadays where we both can see and speak to each other freely. If you wonder how this may affect my intuitive work, I can put your mind at ease! For me as intuitive guidance, it's just as valuable and strong as when it's done during a personal meeting, and none of my abilities function differently at a distance. Time and space do not exist, and for me, you can sit on the other side of the earth if you like – and I will tune into you and your life just as good.
With light / Liselotte S Johansson